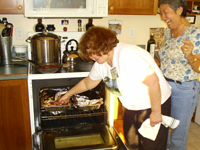 On Friday we hit the beach for a party sponsored by the Wingate Inn.  They provided the food for the party that was held in the "Teen Club" at the Hotel adjacent to the pool.  And once again, we had a talented group of alumni who decorated the conference room to give it a character reminiscent of the Teen Club.

Saturday started with the usual business meeting at one o'clock and then we were off to the countryside to the home of Ann (Schneidewind) and Steve Delp where we enjoyed a catered feast of pork and chicken with all the trimmings.  Nothing can put you in the spirit of old Fredericksburg and its history like a country setting adjacent to one of the area's Civil War battlefields.  Our thanks go to Ann and Steve for their fine hospitality and for allowing us to invade the serene pastures of their ranch.

As if that weren't enough for one day, later that evening we headed back to the Teen Club for the social-of-all socials replete with drinks-of-choice, snacks, dancing and great music from a local DJ. Yes, we did burn the floor that night.

For those alumni who still had energy left and stayed around for Sunday, we were invited out to the Doan's for another evening of food, wine and camaraderie.  Some even had enough energy to do a little boating while others sat back, sipped wine and just caught up on old times.

On Monday morning the remaining few slipped quietly out the door around 11 o'clock and headed their separate ways.

Debbie Holloway Corrigan (class of '76) has put some of her photos from the reunion on a website for all to see.  Contact her directly to obtain access to the photos.

She is also working on getting her photos on a CD so that they can be offered through the LAHS website at:

                                                                                                             Butch Ray

Can you believe it!  Reunion #15 is now history but what fond memories it left behind.  It seems as though the '89 reunion in Washington, DC, was just the other day.  Yes, time has a way of slipping by but that only means that next year's will be here all-the-more sooner.  The weather cooperated with all the events that this year's reunion organizers had planned.  And what a job they did!  "Hats off" to a remarkable and talented group of alumni.

Their efforts brought out the largest crowd ever since the original get-together in '89.  The official tally isn't in yet but it is expected to fall somewhere between 120 and 150.  Most classes from 1958 up to 1990 were represented.  The class of '61 touted another record attendance with 12 alumni attending.

Thursday night offered a delightful setting at the Doan's on Lake of the Woods where we enjoyed an Italian feast complete with Italian wine and some of the finest family pasta recipes.  Now that's what I call good 'ole Italian cuisine.  A big thanks goes to Mimi and Bob for inviting us out and for all of those

who helped with preparing the food.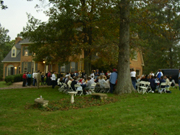 Please Note:  This page is memory intensive... Please be patient while photos download


1st-Time, '61 Alumni Attendees:

John Organek

Welcome LAHS Alumni & Faculty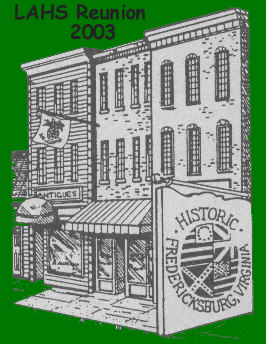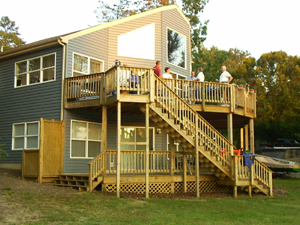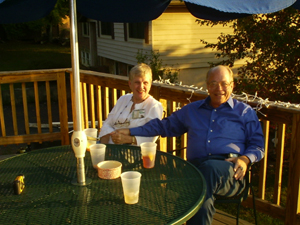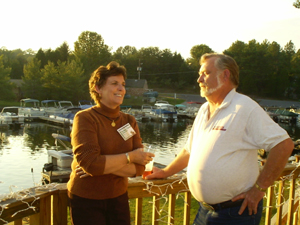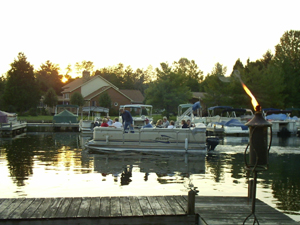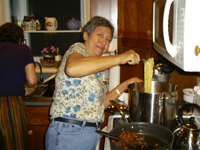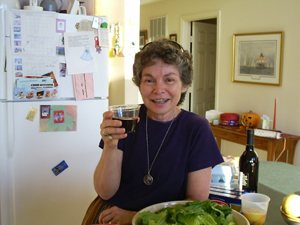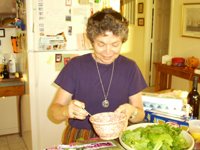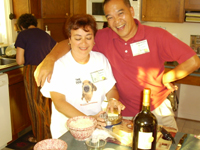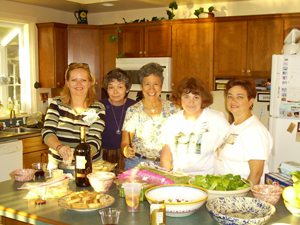 Thursday Evening at Mimi's

Friday Evening - Beach Party at the Inn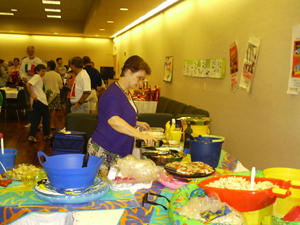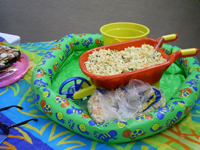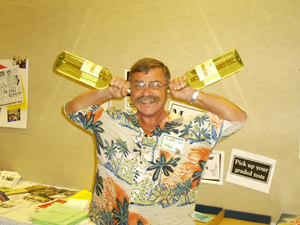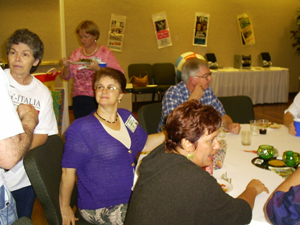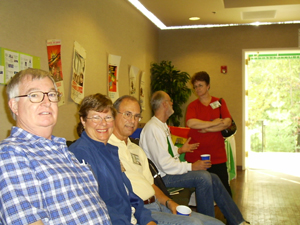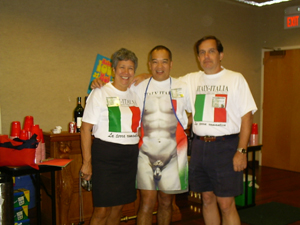 Saturday Evening - Picnic Party at Ann's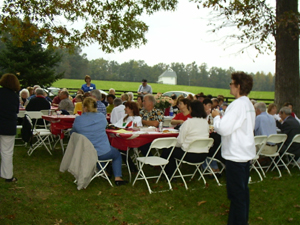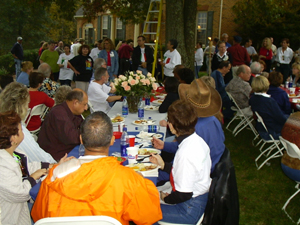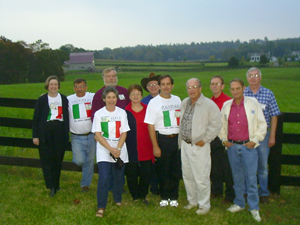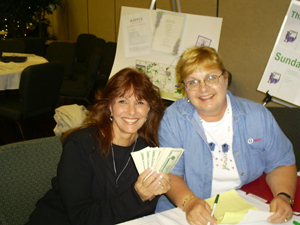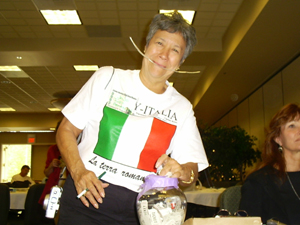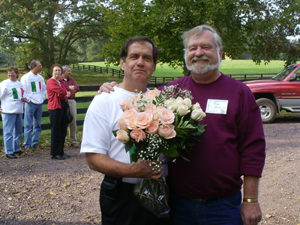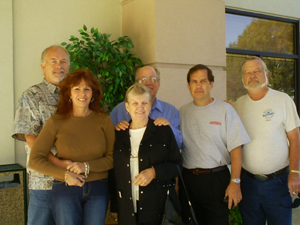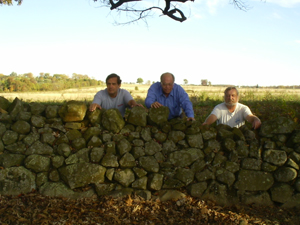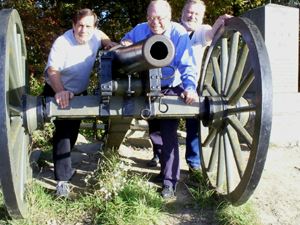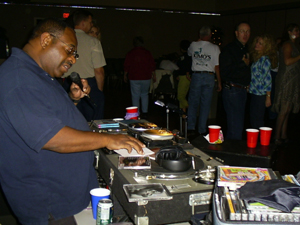 Thursday - Teen Club Opens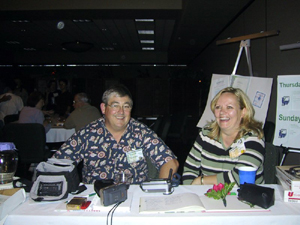 Leslie (Bentley) Horner and Karel (Ray) VanGelder collect the money and seem to be enjoying their work.

Bruce and Debbie greet alumni and friends as they check in.

JoJo (Turpin) Hentschel manages the raffle tickets

Alumni visit with the Doan's Thursday night

Mimi and Bob's neighbor provide boat rides around the lake.

Dinner is Served Italian Style

Left:  JoJo prepares the pasta

Right: Letitia prepares the salad

Lower Left: Frank and Donna shred the cheese

Lower Right: Mimi checks the lasagna

Lower Center:  The chefs are ready to serve

Pat Bowman and wife Sue enjoy the view from the deck.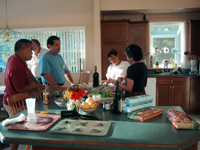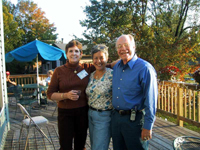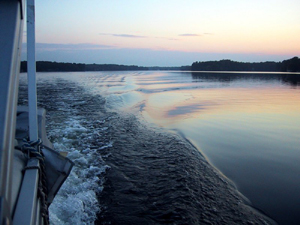 L to R: Frank, Butch, Donna and Letitia in Kitchen sampling the food

Elizabeth (Crowley) VanPelt and Mike Hunter catching up on memories of Italy

Elizabeth, JoJo and Pat enjoy a Kodak moment

Dusk at the Lake of the Woods

Elda (Herring) Eckles prepares buffet as others mix in background.

Joe Auer seems to have a drinking problem

Jim Finley & Donna (l) / Sue (Harris) Wright & Dub (r)

Leticia and Elda seem distracted while Joe Fernan looks the other way

Joe Fernan and others sidelined for various infractions

Frank exposes himself while JoJo and Butch force him in front of the camera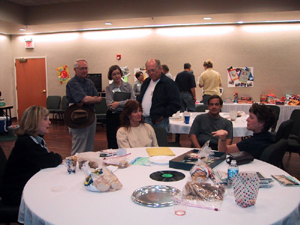 Leslie, Butch & Elizabeth take a break while George, Sue and Pat remain standing.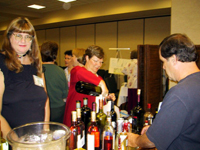 Beef or Chicken... What will it be.

George Parton is the one with the cowboy hat

Class of 1961

(l to r): Sue Wright; Joe Auer; Mike Hunter; Letitia Haworth; Elda Eckles; George Parton; Butch Ray; Pat Bowman; John Organek; Derwood Biles and Joe Fernan

Ann (Southard) Rose not available for picture

Click on Picture to Enlarge , Then Press "Back" on Browser to return here

I couldn't come up with a caption for this photo.

Sue (Harris) Wright suggested "Father of the Bride".

The bar is open as Butch serves the first round of drinks

Local DJ spins the tunes as we "burn the floor"

(l to r): Leslie & Barry, Pat and Sue, Butch and Mike

Yes, it is true.. they lasted until Sunday morning

So What Did Pat, Mike and Butch Do After They Left the Reunion ?

They went to Gettysburg for a special re-enactment where they acted out both sides of Picket's Charge

Supporting the Union cause

Please Note:  For your convenience all pictures on this page can be transferred to your computer or printed directly simply by placing the cursor on the pictures and "right-clicking" your mouse.  Then select appropriate action from the dropdown menu.