Welcome LAHS Alumni & Faculty

" There is a tide in the affairs of men,

Which taken at the flood, leads on to fortune."

Julius Caesar IV, 3, 218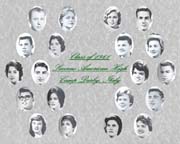 Floating on the tide to find their fortune was the goal of the 1961 Seniors.  One year, signifying the end of a long journey, was a temporal pause before they started on the longest and most exciting pilgrimage.  A full year, rich with memories in which the Seniors lived each moment separately, anxiously wanting the time to pass and yet, reluctant to sur-

render the special memories to the sea of life.

1961 Grads Who Attended LAHS but Graduated After Leaving

Graduating Seniors (l-t-r): David Ellerman; Leann Johnson; Janet Wells; Butch Ray

                                          Fred Mistele; Letitia Wells; Peter Hobiger; Pamela League

                                          Madelyn Terrell; Frank Scarpace; Stephanie Vaughn; Joachim Auer

                                         Joseph Fernan; Elda Herring; Patricia Rainford; Charles Gafford

                                          Iantha Adams; Patricia Filaseta; Patricia Spencer; Rebecca Winston

View Class of 1961 Commencement Program >>>

Note: Click the "BACK" key on your browser to return
































A Big "Thank You" to George Parton for making these pictures available





See Reunions Page for details


Password required to access

Directories below - contact webmaster

Location has been announced